Newborn Screening
Astoria-Pacific has been providing innovative solutions to newborn screening laboratories worldwide since 1994.
Astoria-Pacific is a small company who has made a big difference. We are focused and dedicated to our customers and are very proud of our outstanding reputation for customer service and technical support.
Protect what you cherish most, with simple blood spot testing.
What is Newborn Screening?
Newborn screening is the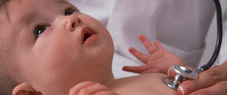 process of testing newborn babies for treatable diseases. Sample collection involves pricking the heel of a newborn baby to fill circles of blood onto filter paper.  The samples are sent to laboratories to be tested for diseases. According to the Center of Disease Control, approximately 3,000 babies with severe disorders are identified in the US each year using newborn screening programs.
In 1963, voluntary newborn screening was introduced in the United States. Today, newborn screening is performed worldwide and is continuing to expand in its scope. The screening, performed by dedicated professionals, has significantly improved the quality of life for thousands of individuals and their families. New diagnostic techniques allow earlier diagnosis and as a result, effective treatment can be instituted without delay.